Jason Aldean has assured fans that he is "doing fine" after canceling a gig in Connecticut on Saturday owing to heat exhaustion.
The country singer's performance at Hartford's Xfinity Theatre was cut short on Saturday after he became ill.
During a performance of his song Crazy Town, Jason moved away from the microphone to cough, according to video footage circulated on social media. He returned to the microphone soon after, but only performed one more line before bolting offstage, effectively ending the show.
The venue's representatives published a statement on Sunday morning, disclosing that he suffered from heat stroke during the performance.
RELATED: Jason Aldean Has Recently Announced A Huge Tour. Here's How To Buy Tickets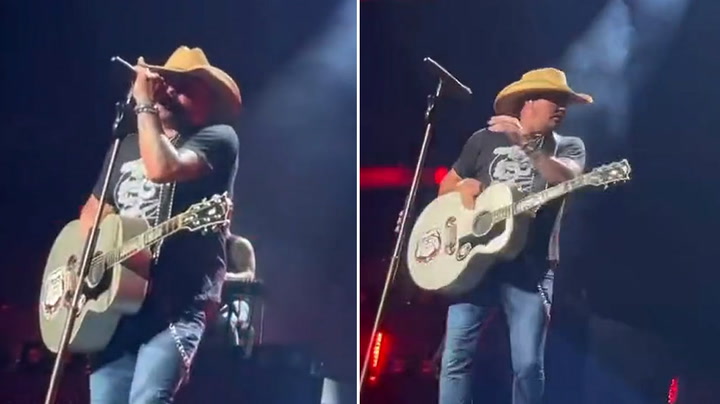 Later that day, Jason took to Instagram Stories to reassure fans that he was feeling much better after receiving two IV drips.
"I'm good; it's just one of those things; it was hot, I played golf all day yesterday and then went to the show… In a video, he claimed, "I believe it was a combination of dehydration and heat exhaustion." "I've been hearing a lot of talk about heat stroke… I don't think it was nearly that serious, but the show last night was fairly dramatic."
Jason, who played in Saratoga Springs, New York, on Sunday night, told Hartford fans that he will return to make up for the short performance.
RELATED: After His Wife's Remarks, Jason Aldean's Publicist Quits Representing Him
"I apologize for cutting the show short, but we'll make it up to you," he explained. "I'm feeling a whole lot better."
The 46-year-old is presently on tour with his Highway Desperado band.
---
Download The Radiant App To Start Watching!
Web: Watch Now
LGTV™: Download
ROKU™: Download
XBox™: Download
Samsung TV™: Download
Amazon Fire TV™: Download
Android TV™: Download
---