An argument between Quavo and Takeoff may be seen in a video that has leaked just before Takeoff was fatally shot.
Quavo can be seen and heard arguing with someone in the video acquired by TMZ outside the Houston bowling alley where his nephew and a member of the Migos was killed early on Tuesday (November 1).
Just a few feet away from the tense exchange, which appeared to be focused on basketball, Takeoff can be seen. "Man, I don't care about no basketball, bruh," Quavo is heard saying, according to reports that he was at the time playing dice. Don't act that way, bruh.
A violent altercation breaks out shortly after that, and then there is shooting. TMZ speculates that other weapons may have been used to shoot the more than 10 bullets that were fired.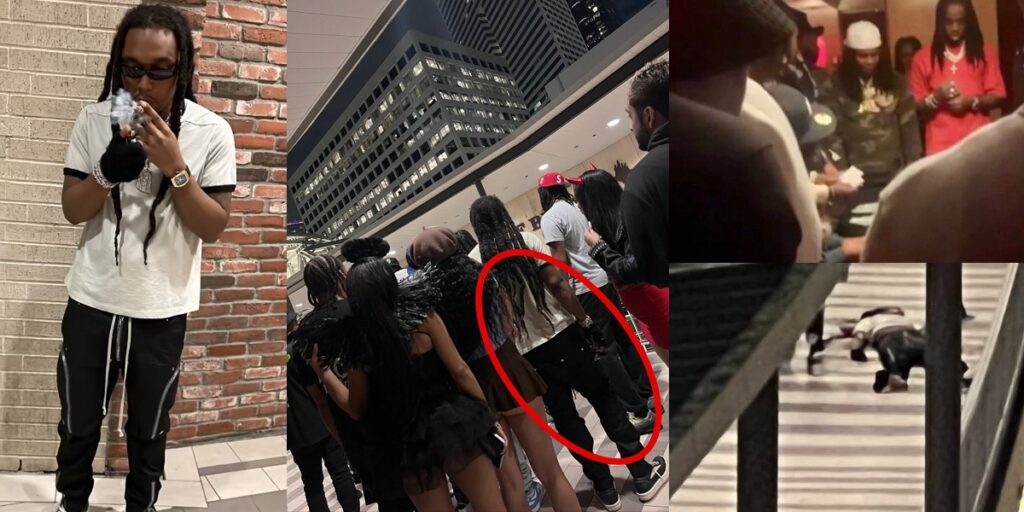 Takeoff was shot "either in the head or close to his head" by at least one of the rounds. He had already been declared dead when police arrived. Quavo was unharmed and managed to flee the incident while two further victims were brought to neighboring hospitals.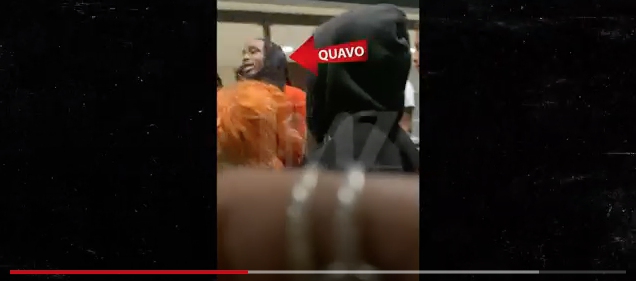 Shakur Stevenson, a famous boxer, was standing next to Takeoff when the gunshot occurred, but he was unharmed as well. He posted the following on Twitter on Tuesday: "R.I.P Takeoff."
Takeoff's death was described as the consequence of "a stray bullet" in a statement made by Kevin "Coach K" Lee, co-founder of Quality Control Music, the record company for Migos.
We mourn the passing of our cherished brother Kirsnick Khari Ball, also known as Takeoff, with shattered hearts and great sadness, the message said. "We are horrified that senseless violence and a stray bullet have taken another life from this world. Please show courtesy to his family and friends as we all process this tragic loss.
In response to the 28-year-old rapper's unexpected death, fellow Quality Control founder Pierre "P" Thomas tweeted a broken heart emoji.
A post shared by coachk44 (@coachk44)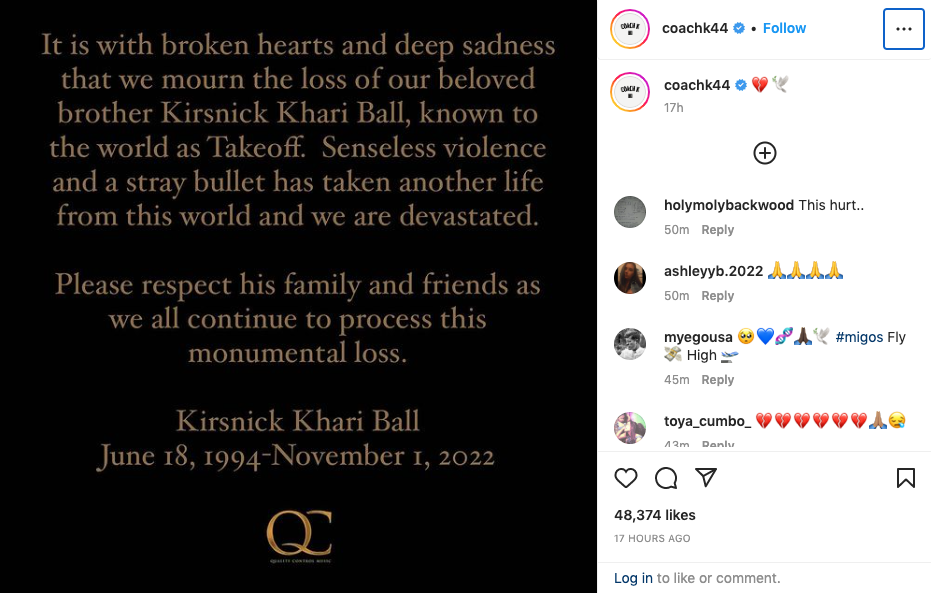 At a press conference on Tuesday, Houston Police Department Sgt. Michael Arrington urged witnesses to come forward because, according to the police report, 40 people attended the private party at the bowling alley.
We're looking for anything there that can assist us, he continued. "We want to bring [Takeoff's] family's case to justice. They are currently experiencing a lot. The only thing we can do is hope that you will call out to us and help us in any way you can to find evidence that will enable us to find, apprehend, charge, and arrest the person who killed Takeoff.
"I just want to say something to our city, Houston, and every brother and sister in the communities," said Houston Police Chief Troy Finner. You are being urged to take action by me. At least 40 people attended this gathering, although some of them departed, possibly out of fear.