By your beds, the Arctic army. Arctic Monkeys are returning this week and are set to be the best thing you see for the rest of the year, aside from Trump's mugshot. This is the week you've been trimming your quiffs and fluffing your Mecca dobbers for.
But the band will undoubtedly be considering how to enter R&L history. There are a few tried-and-true tricks, though…
Ideally, you should wait at least 10 years before making that iconic comeback as Pulp did in 2011. You want to make the regular audience of R&L's 16-year-olds experience flashbacks to the carefree childhood days before the divorce, 35-year-olds recall their peak party years to screams of "go on, just a nibble," and 25-year-olds feel overjoyed at finally getting to see you live. But the four and eight years since the Monkeys last performed in the UK are just about sufficient to qualify, so do call it a comeback.
As the Monkeys have been doing at recent festival performances, strolling on to great orchestral pop or the soundtrack of gangster classic The Long Good Friday makes for a wonderful mood-setter, but it's not exactly the I-was-there event entrance such legend-making moments require. Imagine Kurt Cobain being rolled onto a stage in 1992 while sporting a psychiatric ward robe and blonde wig, but take it a step further. The Monkeys' most recent album, "Tranquility Base Hotel & Casino," has a lunar lounge motif, so I'd recommend floating down from the rafters in astronaut suits complete with cravats and pocket squares.
Sincerely, play nothing but the hits and skip the deep cuts and B-sides. Even while it might seem like the most apparent festival set cliché ever, it works because so few acts actually do it. Bowie played all his hits at Glastonbury in 2000.
Macca's Glasto 2004 set featured a sizable percentage of the hits. And that's basically it. So on the stage, start playing your hits, and leave when you've finished. If necessary, print your setlist from the "Singles" section of your Wikipedia discography. Fair enough, aside from "Potion Approaching," the Monkeys' recent festival performances have adhered fairly closely to this ethos; however, keep in mind that when aiming for R&L glory, the occasional homecoming treat of "Fake Tales of San Francisco" or "When The Sun Goes Down" is nothing to be afraid of.
You need an onstage picture that will be permanently etched in the retinas of anyone fortunate enough to see it in order to maximize R&L myth-making. Your reference point should be Kevin Rowland's 1999 performance in a skimpy white minidress and stockings, but searching for "Björk festival WTF?!?" should yield a ton of suggestions as well.
Don't scrimp on special guests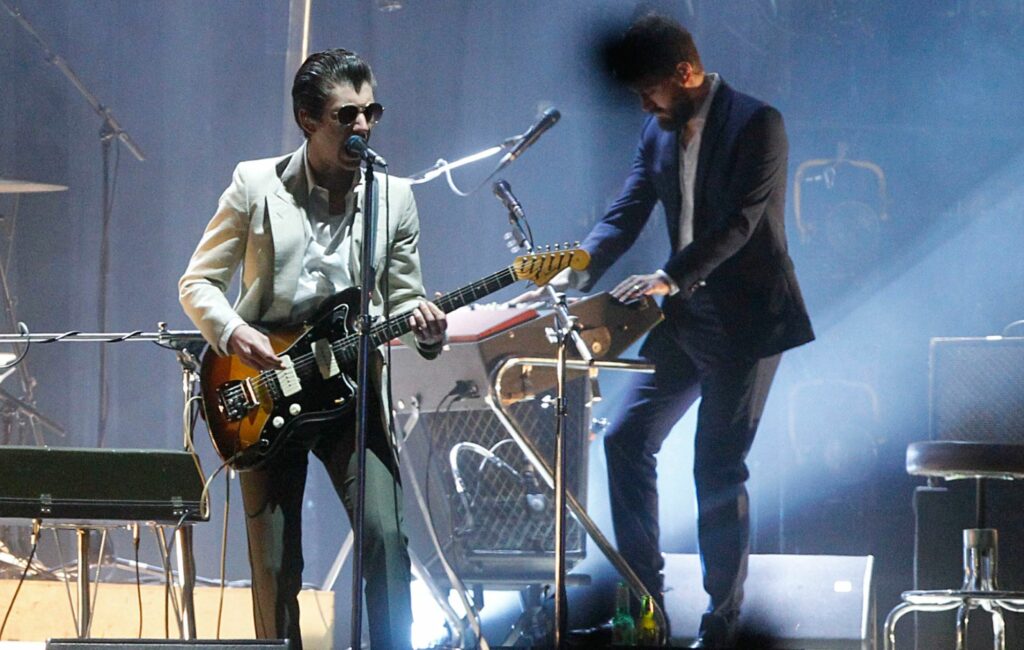 The surprise guest threshold has been dramatically lifted since the (ahem) glorious day of Macca against Bruce at this year's Glastonbury. Miles Kane is absolutely not going to cut it anymore. Gone are the days when you could just walk into the dressing room next door and give the singer of an older band a couple of lines to wait around for your encore. Aim high and exert yourself.
Fire, steam, and lasers? Got it all covered, buddy. We've become immune to all the standard pyrotechnic gimmicks over the years thanks to decades of "but I'm not a soldieeeer"s and "live and let die"s, and every frequent festival-goer is getting tired of discovering butterfly confetti in body crevices months after the event. Today's truly famous festival acts push the limits of what is physically possible at a large outdoor concert. It must be time to use the most advanced digital mapping app technology to light up everyone's phones in stunning patterns, similar to Coldplay's wristbands, or for the Monkeys to invest in a massive teddy picker that can pick up fans from the audience and drop them onstage to play the drums on "Crying Lightning."
Destroy everything
When all else fails, put your gear in a giant pile in front of the stage and hurl guitars at it until the stage resembles a drone attack on Denmark Street, like Nirvana did in 1992. Legend guaranteed.