As part of WEtv's Marriage Boot Camp: The Hip Hop Edition, the relationship between Gangsta Boo and her longterm spouse Emmett has been scrutinized. Drama followed after therapist Dr. Ish confronted the pair about a white powder allegedly discovered in their bed on Thursday night's (May 26) program.
The Three 6 Mafia legend was visibly distressed and denied knowing what the substance was, as Dr. Ish urged her to get treatment if she was suffering from an addiction. After the show aired, Gangsta Boo turned to Instagram to criticize Dr. Ish, claiming that he approached the subject incorrectly.
"You'd think that someone like @drish, when he's trying to be all 'professional,' would have a better choice of delivery," she said in the now-deleted post. "I'm not sure if he's just a TV 'Dr' when the cameras are rolling or if he's a real-life 'Dr' when the cameras aren't."
"If you care so much about people's health, with SO much 'concern and sincerity,' why did you noticeably allow people to be on prescription medicines while consuming alcohol in front of you?" Everything was captured on film. Don't act as if you weren't aware."
A post shared by RealityEntertainmentTV (@realityentertainmenttv)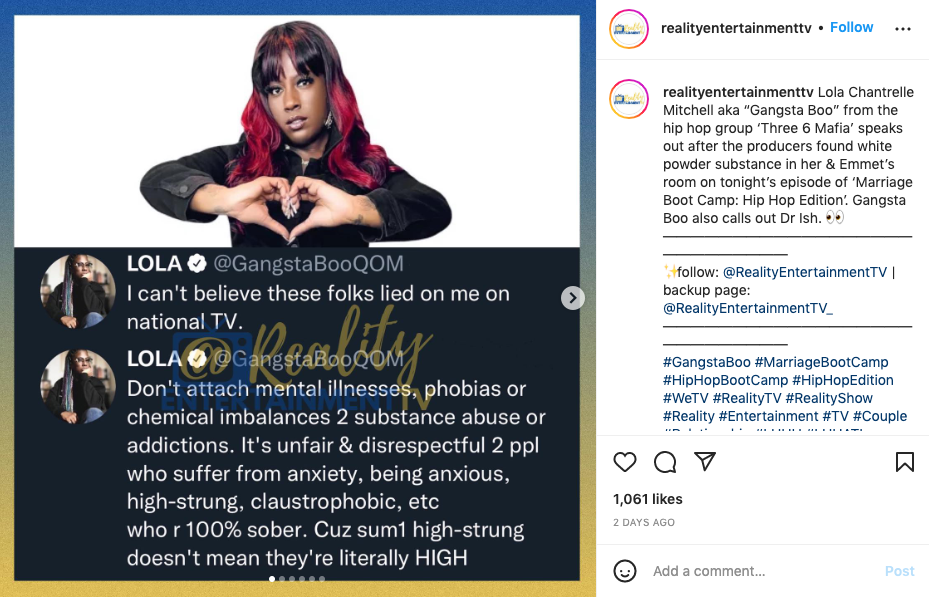 Even if someone was "desperate" for counseling, Gangsta Boo said she wouldn't send them to Dr. Ish. "You genuinely owe a DEEP APOLOGY to the people who suffer from these things in the dark," she concluded. It was insensitive and incorrect, DOC.
"Someone might hear you say what you're saying and be afraid to get help for fear of being labeled a substance abuser or being criticized by others." I have a REAL therapist who would NEVER link personality issues to substance misuse or allow patients to drink alcohol while on prescription medication in front of them.
"Do you realize how risky and unsafe it is?" she concluded. For some, this might be fatal. Were you unconcerned about it? Don't pick and choose when you want to be on patrol to deal with this health issue. It should be a 24-hour event. I used to admire you. I no longer have any regard for you or your sort. Are you married at all? Let's be clear about something. Do better at home, homeboy."
"Side Bar: Oh and I don't take anyone seriously who watches people drink and party on prescribed medicines," Boo later tweeted. That alone carries a great deal of risk. "Let's get back to this Verzuz."
"I was extremely sad to see #GangstaBoo and #Emmet have to depart," Dr. Ish said of the issue. I had a great time working with both of them. Just lovely people. #HipHopBootCamp."