Chris Evans is already one of the Marvel Cinematic Universe's Earth's Mightiest Heroes, but he'll soon be a Pixar hero when he starring in Lightyear. Evans celebrated the world premiere of the new Pixar film in Southern California by visiting Disneyland Resort and having photos shot with his Pixar Pals. Some fans, though, question if he was ever truly present.
Chris Evans shared a set of photos on Instagram of himself standing at the Pixar Pier boardwalk entry at Disney California Adventure. He's surrounded by a variety of Pixar characters in one photo, and he's hanging out with Mickey and Minnie in their finest Woody and Buzz cosplay in another. If you look at Chris Evans, however, you could detect something peculiar. In both photos, he looks to be in the exact same position. He looks as if he hasn't moved a muscle in a long time.
A post shared by Pixar (@pixar)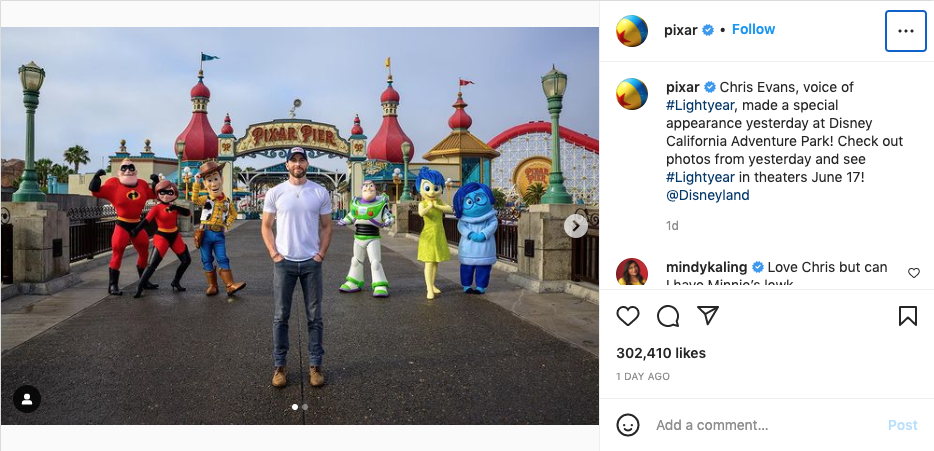 Fans began to accuse Chris Evans' images of being a photoshop job, at least half-jokingly. How else could he have managed to strike such a beautiful stance in both photos? It's hard to think Chris Evans could replicate the position so well that it appears he was cloned from one photo to the next. Maybe there was a problem and Evans didn't look good in one of the pictures, so they were changed to make him appear better.
Chris Evans has seen the reactions to his photos and appears to be having a good time. He wrote on his Instagram Stories that these shots aren't edited and that he's just a natural at posing for the camera.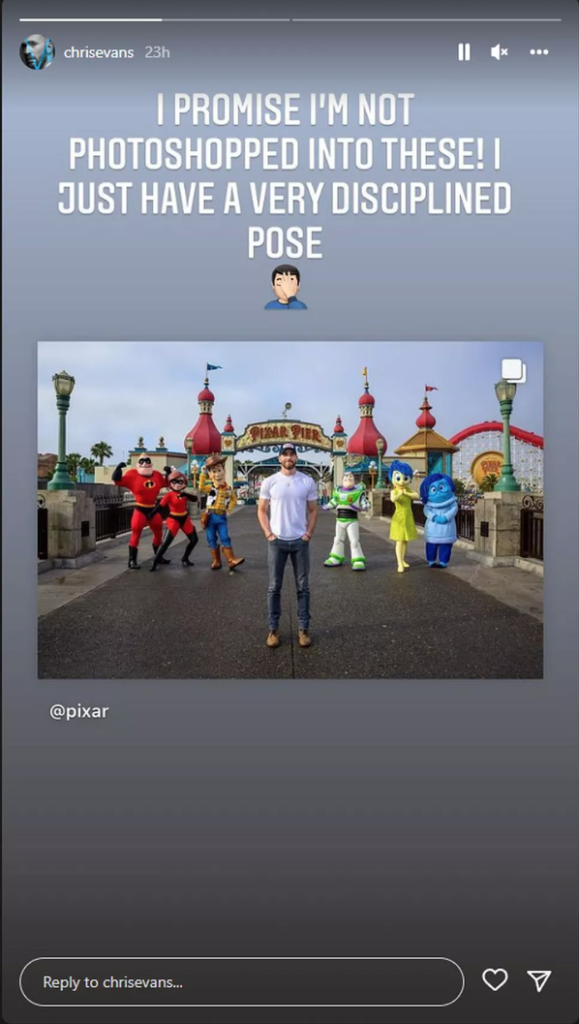 To be fair, Chris Evans makes a profession by standing in front of cameras, so he's undoubtedly a pro at holding whatever stance is required. Still, Evans' ability to hold such a precise stance is astonishing. Was he able to duplicate the exact identical stance twice in a row without moving a muscle between shots? In any case, the man is a natural model.
Captain America is already present at Disney California Adventure, including in zombie form, and Buzz Lightyear is also present, so fans of Chris Evans will find two Chris Evans characters at the Disneyland Resort. Guests will, however, encounter a version of Buzz that is extremely similar to the one from Tim Allen's Toy Story movies. One wonders whether we'll see a new Buzz at the parks that looks more like the one from Buzz Lightyear. It may seem unusual to have two versions of Buzz roaming the parks, but Disney rarely passes up the chance to introduce a new character to help promote a new film or television series.