Rodney Jones, recognized by his stage name Bando, is a promising artist who is on the rise. Hailing from the vibrant city of Fourth Ward Houston, Texas, Bando is making a name for himself in the music industry.
Raised in a hardworking family that supported him, Bando's roots and experiences have shaped his musical journey. Bando continues to pursue his passion for music, fueled by a love that has been ingrained in him from a young age.
Bando's musical odyssey commenced during his formative years, specifically in the fifth grade, where he discovered his passion for music while actively participating in a school band. This early exposure to the world of music ignited a fire within him, driving his determination to create and share his art with the world. Inspired by his surroundings and influenced by various genres, Bando's style is a unique blend that reflects his diverse musical upbringing.
A post shared by (remain focus🚶🏾‍♂️). (@xbando4)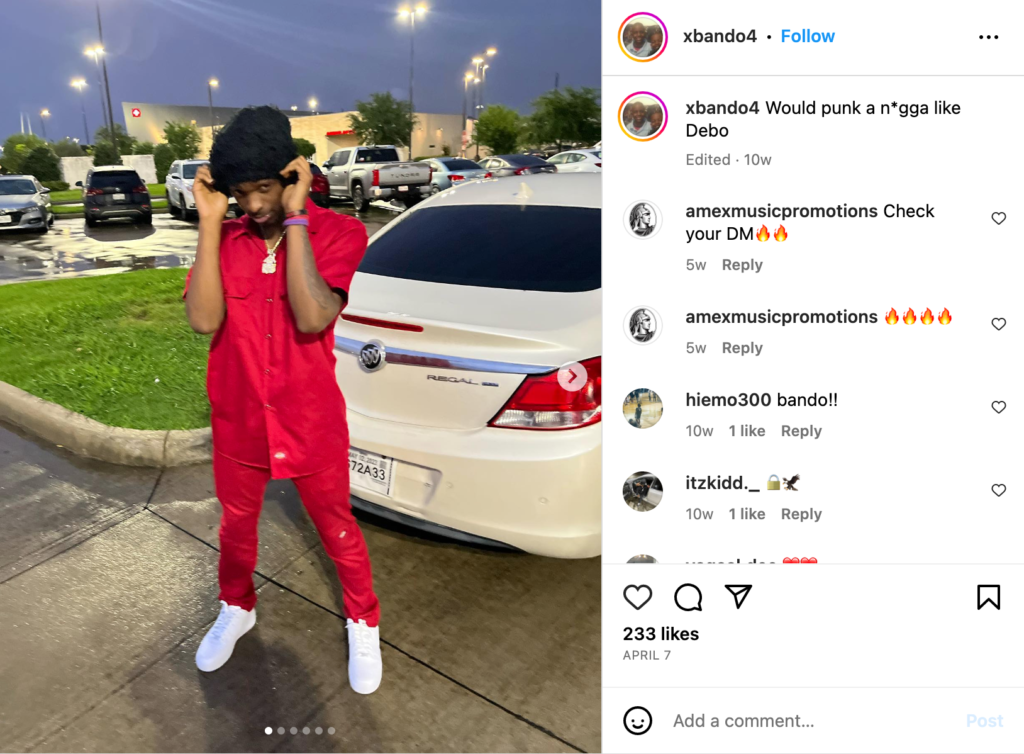 Bando combines his personal experiences, emotions, and storytelling abilities to create captivating music. His songs resonate with authenticity, touching on relatable themes and delivering messages that connect with listeners on a profound level.
Bando receives invaluable support from his cousin, who serves as an inspiration and a driving force behind his musical aspirations. Encouraged by this familial bond, Bando's cousin actively collaborates with him on creative projects and even lends his talent to feature in some of Bando's songs. Presently, Bando is diligently engaged in the creation of a highly anticipated upcoming album, showcasing his unwavering dedication to his craft.
Bando has a song out called "Its Whatever," which is available on Spoitfy.
Bando finds inspiration in a select group of esteemed artists such as, Lil Baby, Future, and Young Thug, currently holding the position of his favorite artist. Drawing motivation from their work, Bando sets his sights on achieving both success and widespread recognition for his own musical endeavors. Central to his aspirations is the desire to establish a deep connection with his fans, allowing them to resonate with the profound meaning embedded within his lyrics. Bando's ultimate aim is to leave an indelible impact through his music, fostering a sense of relatability and forging a lasting bond with his dedicated audience.
Through his passion, talent, and the foundation laid by his upbringing, Bando is determined to carve a path for himself in the world of music. With each song, he continues to share his journey, his dreams, and his art, captivating audiences and solidifying his place as a promising artist to watch out for.
---
Download The Radiant App To Start Watching!
Web: Watch Now
LGTV™: Download
ROKU™: Download
XBox™: Download
Samsung TV™: Download
Amazon Fire TV™: Download
Android TV™: Download
---