Lance Armstrong was once the world's best cyclist.
When he won the Tour de France in 1999, he became the first American to do it in nearly a decade. He then went on to win the next six races in a row. As a result, he became the most dominant rider in the race's history. But it all came crashing down in 2012, when he acknowledged to extensive and persistent steroid use throughout his career. His titles were stripped, and he is now regarded as a blot on the sport's history.
Meanwhile, in the United States, the war on transgender people continues. According to the Trans Legislation Tracker, 590 anti-transmission measures have been introduced in 49 state legislatures (including Delaware). These bills essentially seek to eliminate trans persons, either physically or socially. Furthermore, the right wing is particularly preoccupied with the subject of trans athletes. Despite the fact that triumphs by trans athletes are so rare that each one deserves its own news cycle, some say they are the most serious problem confronting women's sports. Armstrong appears to be one of these folks.
Armstrong Discusses the "Fairness" of Transgender Athletes
Armstrong was simply "asking questions" about trans athletes, displaying a shocking lack of self-awareness. "Isn't there a world where one can be supportive of the transgender community and curious about the fairness of Trans athletes in sports without being labeled a transphobe or a bigot for asking questions?" Do we have the answers yet? And do we even care about the answers?" To be clear, the success of trans athletes is so minor that it is essentially inconsequential.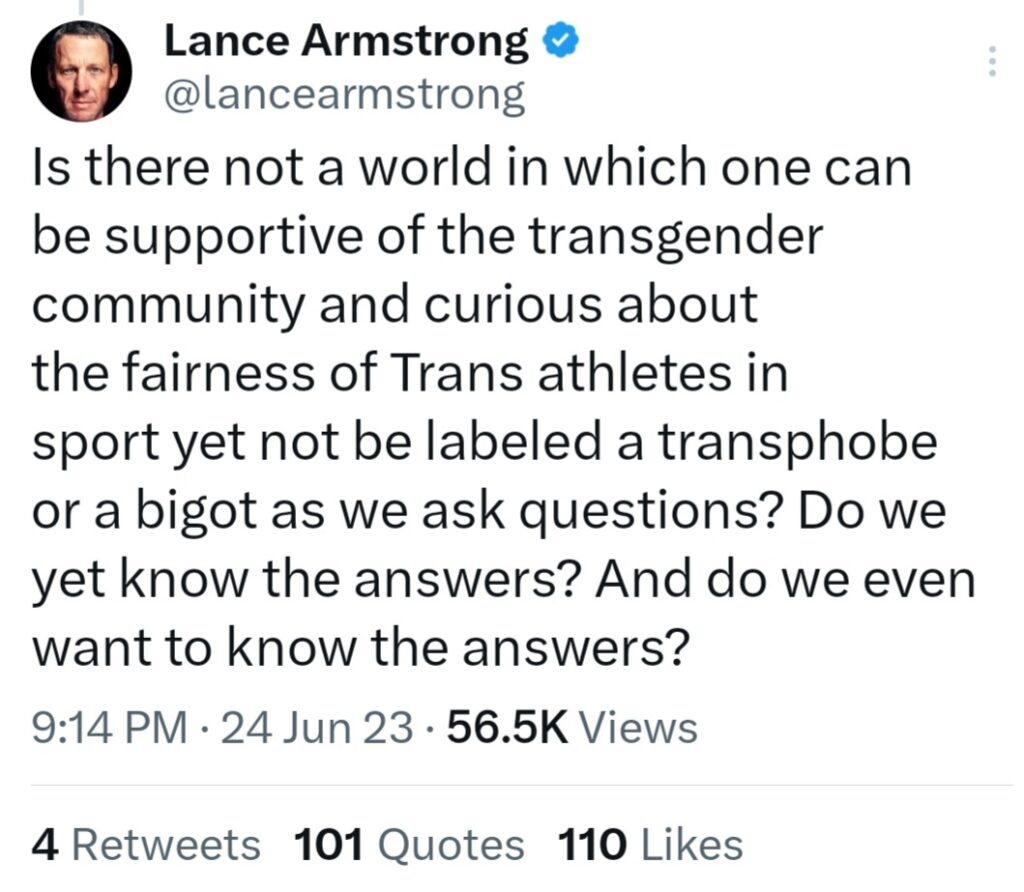 It was surprising, though, that Armstrong wanted to discuss fairness. After all, it wasn't a transgender athlete who was stripped of seven Tour de France trophies for widespread cheating. It's strange that Armstrong cares about fairness when individuals are just trying to be themselves. Social media was unanimous in its condemnation of Armstrong's tone-deaf stance. Armstrong, inevitably, responded by lamenting the death of debate and the fact that "you can't ask questions anymore."
---
Download The Radiant App To Start Watching!
Web: Watch Now
LGTV™: Download
ROKU™: Download
XBox™: Download
Samsung TV™: Download
Amazon Fire TV™: Download
Android TV™: Download
---