Drake has done it again. The Boy and 21 Savage's album, Her Loss, has received more than one billion streams on Spotify, the service said earlier this week.
Drake now holds the record for the musician with the most albums that have been streamed over one billion times with this album, which is his 12th to reach that milestone on Spotify.
Drake's first album of 2022, Honestly, Nevermind, which reached the same milestone earlier this year, is followed by the 16-track album. Her Loss debuted at No. 1 on the Billboard chart with over 411,000 units sold in its first week. Thanks to Drake, who has 12 straight albums that have reached this milestone, 21 Savage's record becomes the first to reach one billion streams on the site. Her Loss, the 12th and third No. 1 albums for Drake and 21 Savage, respectively, racked up 514 million on-demand streams.
The 6God has stated that he believes Her Loss is one of the "best albums" he has ever been a part of, saying, "[Her Loss] is one of the greatest albums I have recorded in my life." I recently stated that I believe this is a clear contender for my Top 5 of my catalog, if not the Top 3.
A post shared by Drake Related (@drakerelated)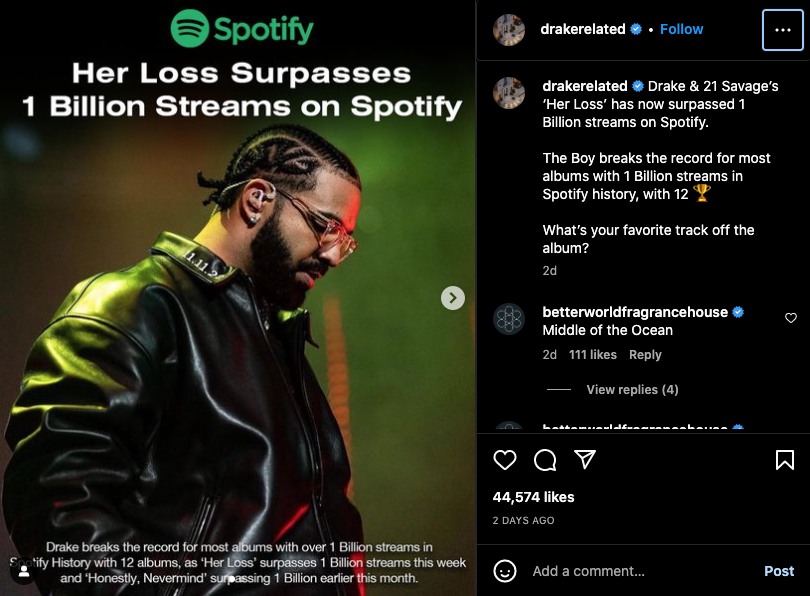 Other Drake news includes the $20K USD auction of his hand-written rap songs from the early 2000s.
---
Download The Radiant App To Start Watching!
Web: Watch Now
LGTV™: Download
ROKU™: Download
XBox™: Download
Samsung TV™: Download
Amazon Fire TV™: Download
Android TV™: Download