According to CBS Pittsburgh, legendary Pro Football Hall of Fame running back Franco Harris has passed away. He was 72.
Harris' relatives informed the station that he had passed away. The reason of death was not disclosed.
After playing for Joe Paterno at Penn State, the four-time Super Bowl victor and nine-time Pro Bowler was selected by the Steelers with the 13th overall choice in 1972.
Harris amassed over 11,000 yards of rushing throughout his lengthy NFL career while playing with the Steelers, making him the franchise's all-time best rusher. He was also voted the Super Bowl IX MVP.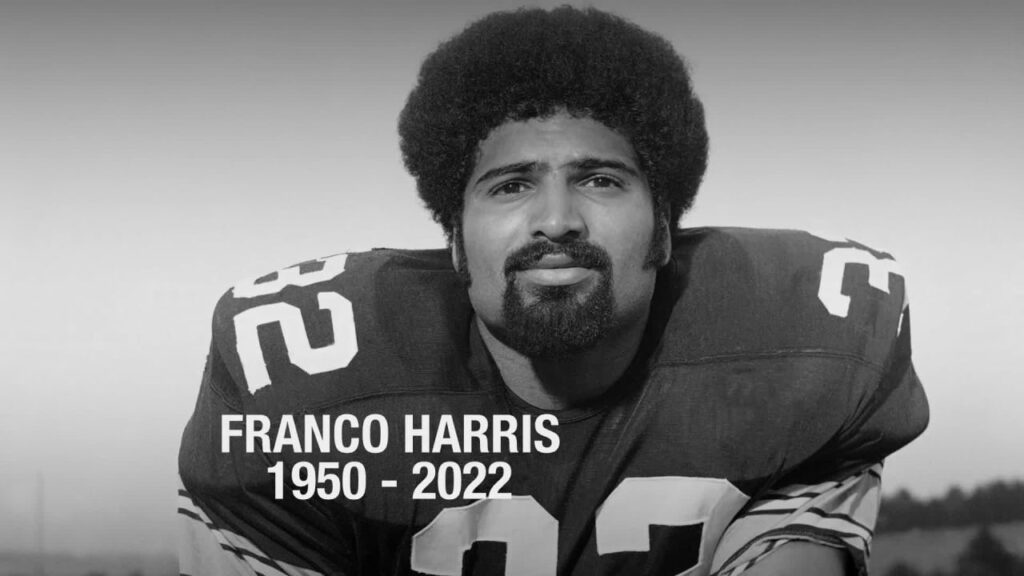 With his "Immaculate Reception" during the Divisional Round of the 1972 Playoffs at Three Rivers Stadium, Harris cemented his place in history for all time. The Associated Press notes that during the league's 100th anniversary season in 2020, it was chosen as the best play in NFL history.
Two days prior to the play's 50th anniversary, he passed away.
Harris, a member of the Steelers Hall of Fame, will join Joe Greene and Ernie Stautner as the only other players in the organization's history to have their number 32 honored by the team on Saturday.
Politicians, coaches, and athletes paid tribute to Harris on social media.
Jerome Bettis, a former running back with the Steelers, referred to Harris as a "brother" and "mentor."
Harris was described as a "champion on the field" and a "ambassador off it" by Steelers Hall of Fame coach Bill Cowher.
Franco Harris, a frequent campaign supporter of senator-elect John Fetterman, referred to the Steelers great as a "icon on and off the field."
In 1990, Harris was enshrined in the Pro Football Hall of Fame.
In a statement issued on Tuesday, the Hall of Fame stated that Harris "not only had an impact on the game of football, but he also had a profoundly beneficial impact on the lives of many, many people."
"The Pro Football Hall of Fame staff as a whole is deeply grieved today.
We have lost one of the greatest individuals you will ever meet in addition to an outstanding football player and Hall of Fame ambassador. Franco had a tremendously positive impact on a great deal of people's lives in addition to the game of football.
Harris is survived by his wife, Dana Dokmanovich, and his son, Dok.  
---
Download The Radiant App To Start Watching!
Web: Watch Now
LGTV™: Download
ROKU™: Download
XBox™: Download
Samsung TV™: Download
Amazon Fire TV™: Download
Android TV™: Download