During his most recent Clubhouse conversation, Kanye West blasted Rosa Parks for being a "plant." His account has since been suspended by the platform as a result of his numerous antisemitic remarks from the live stream.
There is only one hero among all of these, man. Jesus Christ is that. You're going to learn something about Rosa Parks, MLK, JFK, Malcolm, and other historical figures. We are aware that Rosa Parks was a fake, West stated.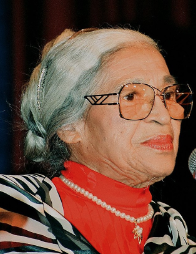 We are aware of all of these things, and they use these media outlets to stir up controversy, he continued. The trauma economy is based on outrage. This week, we're going to highlight which death? It's not like 14 people are killed in Chicago every week. But no, we're going to make this known on our platform—I won't tell which one. They were Jews.
Additionally, Kanye claimed Jews were "simply middlemen" who "are utilized by the Chinese" to subjugate Black people.
The Clubhouse Q&A, which lasted little under an hour, cost spectators $20 to attend. Clubhouse announced the next day that they had removed West from the platform.
"We intervened yesterday to stop a chat since it went against our rules. Additionally, those who disobeyed the rules were suspended. According to our Community Guidelines and Terms of Service, there is absolutely no place for bullying, hate speech, or harassment on our platform, Clubhouse said in a statement.
In another part of the conversion, he focused on Meek Mill. The two had been exchanging virtual shots for a while. Later, in a Sunday tweet, Meek responded to the remarks. West, according to him, was "on clubhouse at 50."
See here for Kanye's most recent remarks.
A post shared by The Neighborhood Talk (@theneighborhoodtalk)
---
Download The Radiant App To Start Watching!
Web: Watch Now
LGTV™: Download
ROKU™: Download
XBox™: Download
Samsung TV™: Download
Amazon Fire TV™: Download
Android TV™: Download