Chris Brown was slated to perform on Sunday at the 2022 American Music Awards. However, the show's creators decided to postpone Brown's appearance. After learning that Chris Brown's appearance had been postponed, the public was incensed.
Many others defended the singer on social media. Even famous people supported the AMAs in their effort to defend their decision to cancel Brown's performance. While presenting the musician with the prize for Favorite Male R&B Artist, Kelly Rowland defended him. Kelly advised the audience to "relax out" as they jeered the singer's victory.
"I want to tell Chris, thank you so much for making great R&B music. And I want to tell him, thank you for being an incredible performer. I'll take this award, bring it to you. I love you. Congratulations, and congratulations to all the nominees in this category," Kelly shared.
Regarding the AMAs, Chris Brown informed his 124 million followers that he had been "cancelled for reasons unknown." Brown's act was scrapped, according to Matt Belloni of Puck, because ABC bosses were uncomfortable with "the possibility of a convicted domestic abuser feting a suspected child molester on a Disney network." According to reports, as soon as the executives learned about the performance, they promptly instructed the producers to slash the homage in its entirety.
Disney producers weren't against Brown taking the stage, though. Chris could still perform, but they decided against him doing the homage because it would be too "radioactive." They even made an attempt to come up with a backup plan, but Chris insisted that it was all or nothing for him. Fans and peers of Brown swarmed the comments section to support Chris and MJ.
A post shared by The Neighborhood Talk (@theneighborhoodtalk)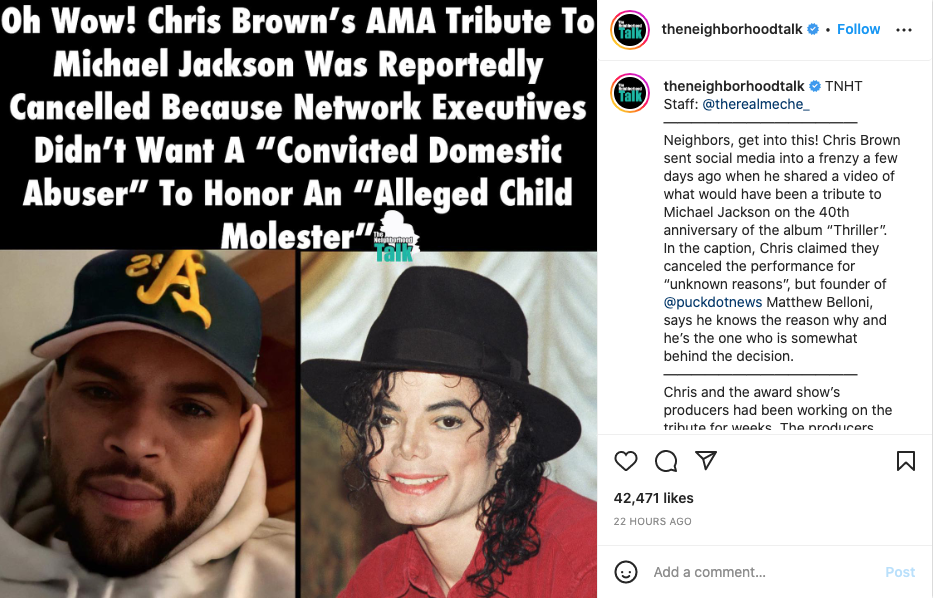 "Maybe I'm wrong but last time I checked they didn't actually find him doing anything to them kids," Summer Walker shared. Singer Tank chimed in to share his thoughts on the incident as well. "Everyone owes Chris Brown an apology! He didn't ask for this. He was sitting at home minding his business when THEY CALLED HIM."
Check out a clip of Chris Brown's rehearsal performance below. 
A post shared by BROWN (@chrisbrownofficial)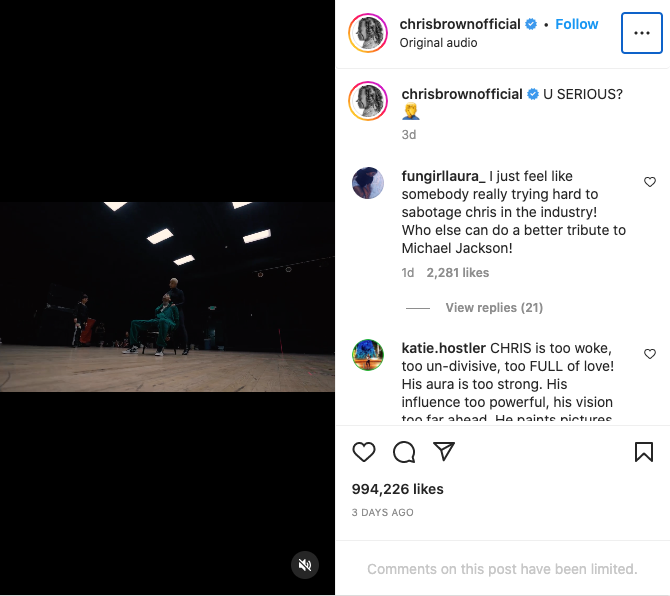 ---
Download The Radiant App And Start Watching!
Amazon Fire TV™: Download
Android TV™: Download