Matt Eberflus has already established the tone for the new Chicago Bears coaching staff.
The NFL hit the team with a punishment just before the next round of Organized Team Activity sessions were due to begin. The club was forced to forfeit their Tuesday practice session, according to Dan Wiederer of the Chicago Tribune, due to a breach of the Collective Bargaining Agreement involving excessive aggressiveness during earlier OTA workouts in May.
This isn't the first time the league has seen something like this. The Dallas Cowboys, San Francisco 49ers, and Jacksonville Jaguars also lost OTA practices and were fined for identical offenses last year. Between 2016 and 2018, the Baltimore Ravens did it twice in three years. Hearing such things makes one wonder if those teams forgot the rules or if they sacrificed future practices to get more significant work done with some physicality.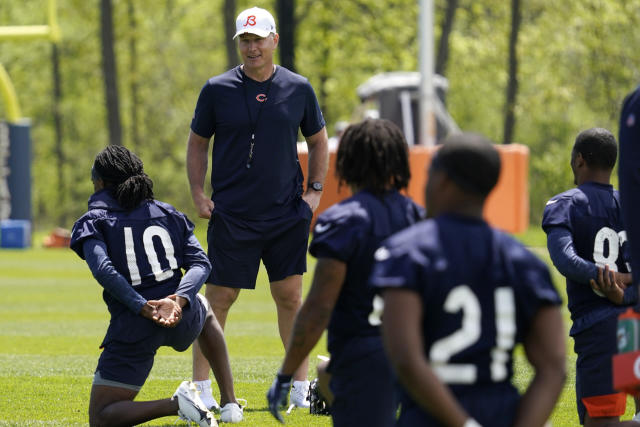 "ACCORDING TO THE LEAGUE SOURCE, THE BEARS WERE WARNED FOR HAVING PRACTICES FEATURING TOO MUCH CONTACT LAST MONTH WITH REQUESTS MADE THAT THEY ALTER THEIR PRACTICE ACTIVITY TO ADJUST. EVENTUALLY, WHEN PROPER ADJUSTMENTS WEREN'T MADE, THE NFL PLAYERS ASSOCIATION WAS ASKED TO GET INVOLVED AND THE NFL STEPPED IN, DECIDING THAT THE TEAM WAS IN VIOLATION OF LEAGUE RULES. AS A RESULT, THE BEARS WERE REQUIRED TO FORFEIT ONE OF THEIR OTA PRACTICES."
The Chicago Bears may have simply allowed the game to become too heated.
It's easy to forget that many of the players on the roster aren't guaranteed to make the team. Journeyman veterans, as well as low-drafted and undrafted rookies, are well aware that their chances of making the final 53 are slim. As a result, they push themselves a little more at minicamps and OTAs because they feel compelled to. Coaches tolerate it because it adds to the game's excitement, but the NFL and the NFL Players Association have attempted to discourage it since it can result in unnecessary injuries.
Perhaps Eberflus was trying to send a message to his teammates. He expected this team to be violent and rough, and he was ready to forego a summer practice in shorts to do it. When those comparisons to Ravens head coach John Harbaugh were made, it seemed fairly natural. He's only known the man for a few months, but he already has one thing in common with him.