In Chris Brown's last solo album, Indigo, was released three years ago, and he appears to be returning to the scene with a brand new project.
On Monday (May 9), the "Fine China" singer posted an update on Instagram about his upcoming tenth studio album Breezy. Brown has been teasing the project for months, but it appears he has finally decided on a release date.
"'Breezy' coming soon," he wrote on Instagram, followed by "June."
A post shared by BREEZY (@chrisbrownofficial)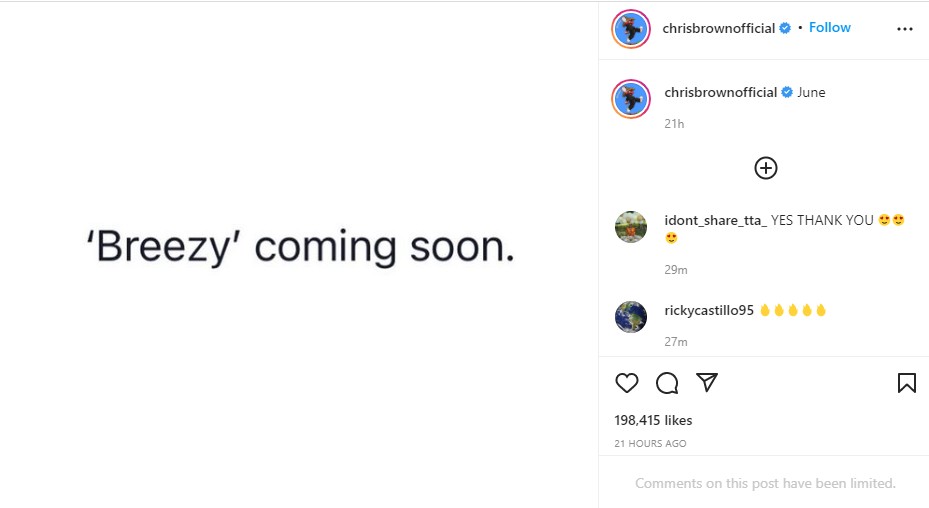 Fans have already heard two Breezy singles, "Iffy" and "WE (Warm Embrace)," both of which have been well received. His fans, on the other hand, are left wondering what magic Chris Brown will concoct on his latest album.
In April, the 33-year-old singer described the mood that fans can expect from Breezy. Chris describes it as a healthy mix of "love" and "heartbreak," two things he is well-versed in when it comes to relationships.
"NOT GO LIE… "Some of these songs on my album require a different type of LOVE mixed with heartbreak," he wrote in an Instagram Story. "So, thank you ahead of time.
Once Breezy is released, Chris Brown will go on tour with Lil Baby. He announced the One of Them Ones Tour last month, which will begin on July 15 in Raleigh, North Carolina.
The tour will take the duo to cities across the country, including Philadelphia, New York City, Toronto, Chicago, Houston, Los Angeles, Virginia Beach, and Atlanta, before concluding on August 27 in Las Vegas.
A post shared by BREEZY (@chrisbrownofficial)